JACK MOUNT'S HOME PLACE ....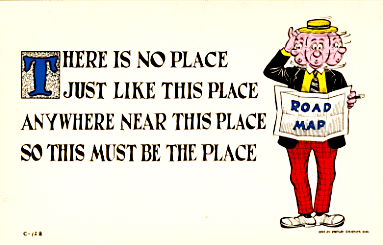 Welcome to my home place. I am a retired paleontologist/geologist, museum curator, college instructor, and geosciences librarian.
This webpage is a gateway to the websites I have created for my many interests.
I have also provided lists of links to websites dealing with Arizona and Tucson; some general Reference Pages which I have found useful in finding interesting information; and a list of Web Search Engines and Subject Catalogs for locating additional Web pages.
The images at the tops or bottoms of the pages are of vintage postcards from my personal collection. I have prepared descriptions of the postcards.


CONTENTS

ARIZONA AND TUCSON RESOURCES

BEER RESOURCES

BIRDS IN MY YARD

BIRDS RESOURCES

BOOKS RESOURCES & NEWBOOKS LISTS

HIGHWAYS AND ROADS RESOURCES

HISTORIC U. S. HIGHWAY "ROUTE" 66 RESOURCES

MY ANCESTRAL FAMILY LINES & GENEALOGY RESOURCES

MY EBAY AUCTIONS

MY ELONGATED PENNIES COLLECTION

MY HOPALONG COLLECTION

MY LETTERBOXING ACTIVITIES

MY NATIONAL PARKS PASSPORT CANCELLATION STAMPS

MY PALEONTOLOGICAL ARTICLES & PAPERS

MY POSTAL HISTORY EXHIBITS

MY POSTCARD EXHIBITS

MY WEB CAMPAIGNS, CLUB MEMBERSHIPS, "WEB AWARDS", ETC.
NATIONAL PARKS AND MONUMENTS RESOURCES

PALEONTOLOGY AND FOSSILS RESOURCES

POSTCARDS RESOURCES & EXHIBITS

SOME USEFUL REFERENCE & INFORMATIVE PAGES (LINKS): Postal Services; Weather; Flags of the U. S. & the States; Government; Yellow Pages; and Dictionaries & Encyclopedias

TOPSITES THAT I MANAGE

WALKING AND HIKING RESOURCES

WEB SEARCH ENGINES, SUBJECT CATALOGS, PEOPLE FINDERS, ETC.

WEBRINGS I AM RINGMASTER FOR
MY EMAIL ADDRESS


Doing what feels good, what's convenient, what's easy, that's how little kids think. Unfortunately a lot of so-called grownups, including some with fancy titles, important jobs, still think that way, which is why things are so screwed up.
- Former President Barack Obama, May 16, 2020

NEW BOOKS CURRENTLY AVAILABLE:
---
---
"Do not take life too seriously. You will never get out of it alive anyhow!"
The pages at this place were last updated: November 24, 2023
Copyright © 1995-2023

Return to top of page - URL: http://nostalgia.esmartkid.com/index.html

You are visitor number