HISTORIC ROUTE 66

U. S. Highway "Route" 66 was commissioned in 1926, the year U. S. numbered highways came into existence. It consisted of a 'collection" of two-lane concrete or asphalt paved roads extending from Chicago to Santa Monica, running through the states of Illinois, Missouri, Kansas, Oklahoma, Texas, New Mexico, Arizona, and California. Route 66 is considered the "Mother Road" of American highways. The old "Main Street of America" was deactivated in 1984 and the U. S. 66 highway shields taken down, after being replaced by the modern interstate highway system.
---
CONTENTS

| Books, Maps, & Videos | Other Highway Links | Route 66 Links | Route 66 Postcards | Route 66 Song | Web Rings |



LINKS
Here is a selected list of Web pages dealing with historic U.S. Highway "Route" 66. Click on the name of the page to access it. If you know of a Route 66 Web page that should be listed here, let me know and I will add it.

Arizona

Associations & Clubs

Bibliographies





Books & Maps





Cafes, Diners, Restaurants, Nightclubs, Etc.

California

CDs & Videos




Directories & Lists of Links





General Information & Interest




Illinois

Kansas

Listservs, Mailing Lists, & Message Boards




Magazines & Newsletters





Merchandise & Other Commercial Stuff





Missouri

Motels & Hotels

Museums

New Mexico

Oklahoma

Postcards

Texas

Theaters

TopSites

Travelers' Commentary, Essays & Reports

Web Rings
---
Here is a page of links to Web sites about other Highways and Roads.




BOOKS, MAPS, AND VIDEOS

Here is a list of books, maps, and videos about Historic Route 66 that are currently available.







Play the song "Route 66" written by Bobby Troup and sung by Nat King Cole.






Here are my Route 66 postcards produced for National Postcard Week.






Vote for my site at Top Route 66 Sites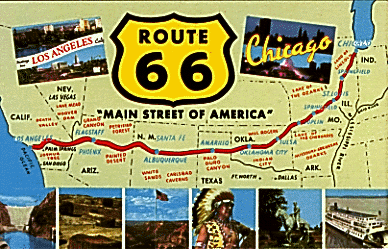 "I would rather be driving the Mother Road!"
---
NEW BOOKS CURRENTLY AVAILABLE:
---
This page maintained by Jack D. Mount
If you know of Web sites that should be listed here, please let me know.
Last updated: January 26, 2016
---

Return to first page of Jack's Home Place


Return to top
© 1999-2016
Historic Route 66 NetRing
Circle of Links NetRing
Ring Fan NetRing