| | |
| --- | --- |
| | AZROADIE'S LETTERBOXING ACTIVITIES |
Letterboxing is an international outdoor recreational activity. Basically, small boxes are hidden in the great outdoors, and clues to finding boxes located in North America are posted to the "Letterboxing North America" or "Atlas Quest: International Letterboxing" websites. The boxes contain a rubberstamp and a logbook.
Those trying to find the boxes have their own stamp and logbook. When the box is found, the finders stamp their logbook with the stamp from the box, and then stamp the logbook in the box with their personal stamp and write a brief message. The box is then hidden away again. The wonderful thing about letterboxing is that it takes you to places you may not otherwise visit!
Go to the Letterboxing North America or Atlas Quest: International Letterboxing websites for additional information. The book "The Letterboxer's Companion" gives a nice introduction to the activity.
My letterboxing trail name (nickname or handle) is "Azroadie".
---
Letterboxes I Have Placed

---
My National Parks Webboxes


---
Boxes I Have Found
The letterboxes are listed in chronological order by the date I found them:


---
My Personal Stamp
This is the signature stamp I use to stamp the logbooks in the letterboxes: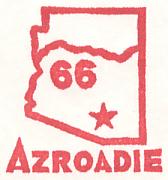 This is my old stamp (used from October 2003 to February 2006):

---
My Hitchhikers Travel Record
See the travel history for my hitchhikers:

---
My Retired Stamps
---
Arizona 15 Letterboxing Award
I am offering an award for finding one of my letterboxes in each of Arizona's 15 counties. Go here for information, instructions, and application form:

---
Letterboxing Southwest Discussion Group
Letterboxing Southwest is a discussion group for letterboxing in the American Southwest, primarily Arizona and New Mexico. The group is intended for general communication and chit chat, sharing of stories, ideas, news, advice, carvings and clues related to letterboxing, particularly as it pertains to letterboxing in the southwestern US. You may elect to have the messages mailed to your personal e-mail account or read them on the website. Go here for the group's website and to join: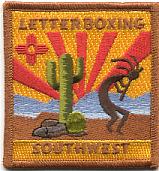 ---
Letterboxing Webring
If you have a website wholly or partially about Letterboxing, you are invited to join the "Letterboxing Webring". Go here for information about this webring and to join it:

---
Letterboxing North America WebRing
If you have a website focusing on Letterboxing mainly in North America, you are invited to join the "Letterboxing North America WebRing". Go here for information about this webring and to join it:
---
Top Letterboxing Sites
If you have a website about Letterboxing, you are invited to join the "Top Letterboxing Sites". Go here for information about this "TopSites" and to join it:
---
13th Annual Tucson Letterboxers Gathering
The 13th Annual Tucson, Arizona, Letterboxers Gathering will take place on Sunday, February 12, 2017. Go here for information about this gathering and to signup:
http://www.atlasquest.com/showinfo.html?eventId=3710
---
---
SOME USEFUL LINKS
---
Vote For My Website
---
---
This page maintained by Jack D. Mount
azroadie66@cox.net
Last updated: January 1, 2017
Copyright © 2004-2017
---
NEW BOOKS CURRENTLY AVAILABLE:
---

Return to top

Return to first page of Jack Mount's Home Place

Caching & Stashing NetRing
Circle of Links NetRing
World Wide Web NetRing
Ring Fan NetRing
You are visitor number