BIRDS IN MY YARD IN TUCSON
Here is a list of birds that I have seen in, from, or near my yard. I live on the far eastside of Tucson, Arizona.

Commonly seen:
Anna's hummingbird
Cactus wren
Common raven
Cooper's hawk
Curve-billed thrasher
Gamble quail
Gila woodpecker
Great-tailed grackle
House finch
House sparrow
Lesser goldfinch
Mourning dove
Northern cardinal
Northern mockingbird
Phainopepla
Verdin
White-crowned sparrow
White-winged dove

Occasional visits:
American kestrel
American robin
Ash-throated flycatcher
Bewick's wren
Black-chinned hummingbird
Black-headed grossbeak
Black-throated sparrow
Black vulture
Broad-billed hummingbird
Broad-tailed hummingbird
Brown-crested flycatcher
Bushtit
Costa's hummingbird
Dusky flycatcher
European starling
Great blue heron
Great horned owl
Greater roadrunner
Harris' hawk
Hooded oriole
Inca dove
Ladder-backed woodpecker
Lucy's warbler
Northern flicker
Prairie falcon
Pyrrhuloxia
Red-tailed hawk
Rock dove (Pigeon)
Rufous hummingbird
Sage sparrow
Sharp-shinned hawk
Song sparrow
Summer tanager
Thick-billed kingbird
Turkey vulture
Western tanager
White-throated sparrow
Yellow warbler

---
MONTHLY SIGHTINGS
I am starting to list the birds I have seen during each month.
---
January
Anna's hummingbird
Bushtit
Cactus wren
Common raven
Curve-billed thrasher
Gamble quail
Gila woodpecker
Great blue heron
Great horned owl
Harris' hawk
House finch
House sparrow
Lesser goldfinch
Mourning dove
Northern cardinal
Phainopepla
Red-tailed hawk
Sharp-shinned hawk
Verdin
White-crowned sparrow

---
February
Anna's hummingbird
Bewick's wren
Cactus wren
Common raven
Curve-billed thrasher
Dusky flycatcher
Gamble quail
Gila woodpecker
Great horned owl
Great-tailed grackle
Harris' hawk
House finch
House sparrow
Lesser goldfinch
Mourning dove
Northern cardinal
Northern mockingbird
Phainopepla
Red-tailed hawk
Rock dove (Pigeon)
Sharp-shinned hawk
Verdin
Turkey vulture
White-crowned sparrow

---
March
Anna's hummingbird
Black vulture
Broad-billed hummingbird
Cactus wren
Common raven
Cooper's hawk
Curve-billed thrasher
Dusky flycatcher
Gamble quail
Gila woodpecker
Great horned owl
Great-tailed grackle
Hooded oriole
House finch
House sparrow
Lesser goldfinch
Mourning dove
Northern cardinal
Northern mockingbird
Phainopepla
Red-tailed hawk
Turkey vulture
Verdin
White-crowned sparrow

---
April
American kestrel
Anna's hummingbird
Broad-billed hummingbird
Brown-crested flycatcher
Cactus wren
Common raven
Cooper's hawk
Curve-billed thrasher
European starling
Gamble quail
Gila woodpecker
Great blue heron
Great horned owl
Great-tailed grackle
Harris' hawk
Hooded oriole
House finch
House sparrow
Ladder-backed woodpecker
Lesser goldfinch
Lucy's warbler
Mourning dove
Northern cardinal
Northern mockingbird
Phainopepla
Pyrrhuloxia
Red-tailed hawk
Rock dove (Pigeon)
Sharp-shinned hawk
Turkey vulture
Verdin
White-crowned sparrow
White-winged dove

---
May
American kestrel
Anna's hummingbird
Ash-throated flycatcher
Black-headed grossbeak
Black-throated sparrow
Brown-crested flycatcher
Cactus wren
Common raven
Curve-billed thrasher
European starling
Gamble quail
Gila woodpecker
Great-tailed grackle
Greater roadrunner
Harris' hawk
Hooded oriole
House finch
House sparrow
Ladder-backed woodpecker
Lesser goldfinch
Mourning dove
Northern cardinal
Northern mockingbird
Rock dove (Pigeon)
Sharp-shinned hawk
Turkey vulture
Verdin
White-winged dove

---
June
Anna's hummingbird
Cactus wren
Common raven
Cooper's hawk
Curve-billed thrasher
Gamble quail
Gila woodpecker
Great-tailed grackle
Greater roadrunner
Hooded oriole
House finch
House sparrow
Lesser goldfinch
Mourning dove
Northern cardinal
Northern mockingbird
Rock dove (Pigeon)
Sharp-shinned hawk
Turkey vulture
Verdin
White-winged dove

---
July
Anna's hummingbird
Broad-billed hummingbird
Cactus wren
Cooper's hawk
Curve-billed thrasher
European starling
Gamble quail
Gila woodpecker
Harris' hawk
House finch
House sparrow
Lesser goldfinch
Mourning dove
Northern cardinal
Northern mockingbird
Red-tailed hawk
Verdin
White-winged dove

---
August
Anna's hummingbird
Broad-billed hummingbird
Cactus wren
Common raven
Cooper's hawk
Curve-billed thrasher
Gamble quail
Gila woodpecker
Great horned owl
House finch
House sparrow
Lesser goldfinch
Mourning dove
Northern mockingbird
Pyrrhuloxia
Red-tailed hawk
Rock dove (Pigeon)
Turkey vulture
Verdin
Western tanager
White-winged dove

---
September
Anna's hummingbird
Black-chinned hummingbird
Black vulture
Broad-billed hummingbird
Cactus wren
Common raven
Curve-billed thrasher
European starling
Gamble quail
Gila woodpecker
Great horned owl
Great-tailed grackle
House finch
House sparrow
Mourning dove
Northern mockingbird
Northern cardinal
Rufous hummingbird
Verdin
White-winged dove

---
October
Anna's hummingbird
Broad-billed hummingbird
Cactus wren
Common raven
Curve-billed thrasher
Gamble quail
Gila woodpecker
House finch
House sparrow
Mourning dove
Sharp-shinned hawk
Turkey vulture
Verdin

---
November
Anna's hummingbird
Cactus wren
Common raven
Curve-billed thrasher
Gamble quail
Gila woodpecker
Great horned owl
Harris' hawk
House finch
House sparrow
Lesser goldfinch
Mourning dove
Northern mockingbird
Red-tailed hawk
Sharp-shinned hawk
White-crowned sparrow

---
December
Anna's hummingbird
Cactus wren
Common raven
Curve-billed thrasher
Gamble quail
Gila woodpecker
Great horned owl
Harris' hawk
House finch
House sparrow
Mourning dove
Phainopepla
Red-tailed hawk
Sharp-shinned hawk
White-crowned sparrow

---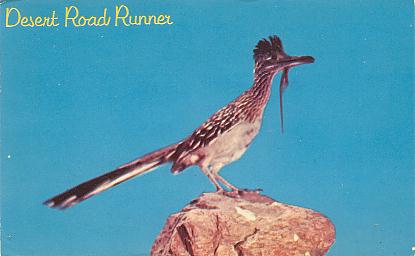 ---

Vote for my site at
Top American Sites
---
NEW BOOKS CURRENTLY AVAILABLE:
---
Last updated: June 6, 2022

Return to Birds Page


Return to first page of Jack's Home Place


Return to top
---