Woody Mount and the Crocker Motorcycle Company
by Jack D. Mount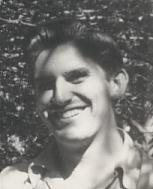 Woody in 1942

I am the son of Woodrow W. Mount (1918 - 2008). His friends and relatives always called him Woody and he pretty much preferred that everyone address him by his nickname! He was a master machinist by profession -- which brings me to the purpose of this article. One of the earliest positions he held in his career was as a machinist/mechanic/tool-maker for the Crocker Motorcycle Company in Los Angeles, California. I recently became aware of the quality, rarity and high collector value of Crocker motorcycles and that many consider them to be the finest motorcycles ever produced in America. These motorcycles have a cadre of nearly fanatic aficianados and enthusiasts. There is even a registry of surviving motorcycles started by several original Crocker owners. For these reasons I offer here a snapshot of Woody Mount's life during his years with the company which may be of interest to Crocker enthusiasts and to add a little more to the history of the company. For additional information about the Crocker Motorcycle Company and Crocker motorcycles go to the websites listed in the links section below.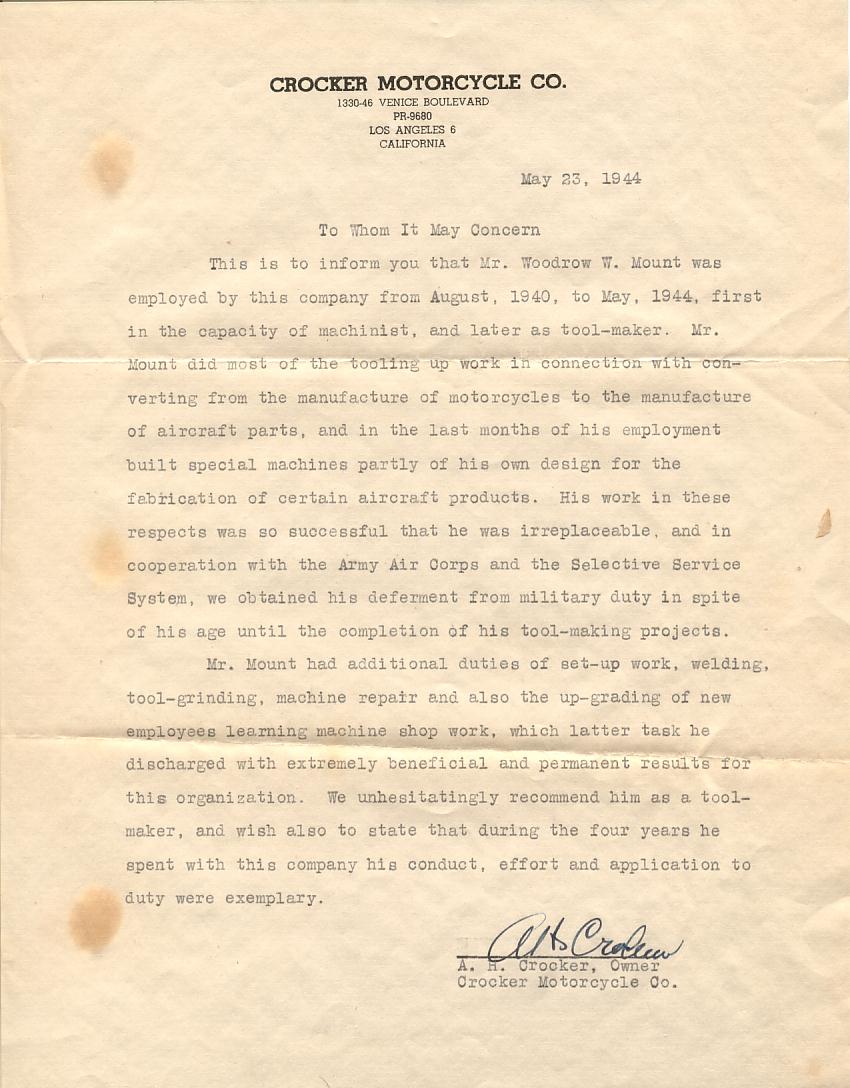 Woody Mount joined the Crocker Motorcycle Company in 1940 and remained employed there until 1944. After a tour of duty in the U. S. Navy during World War II, he rejoined the company in 1946 and worked for it until at least 1947. The Crocker Company produced their motorcycles until 1942. So, for the first two years of his tenure with the company, Woody was involved with the machining of motorcycle parts and the manufacture and assembly of the motorcycles. After the company stopped the production of their motorcycles in 1942, they received a contract to make parts for the Army Air Corps. Woody was one of the primary employees responsible for converting the company to the manufacturing of aircraft parts. Displayed here are scans of the letter of recommendation for Woody signed by Al H. Crocker, the owner of the company, and the envelope it came in. It was written just before Woody joined the Navy and presumably it was provided to him to find employment after his enlistment was over. [click on the images for a larger view of the documents].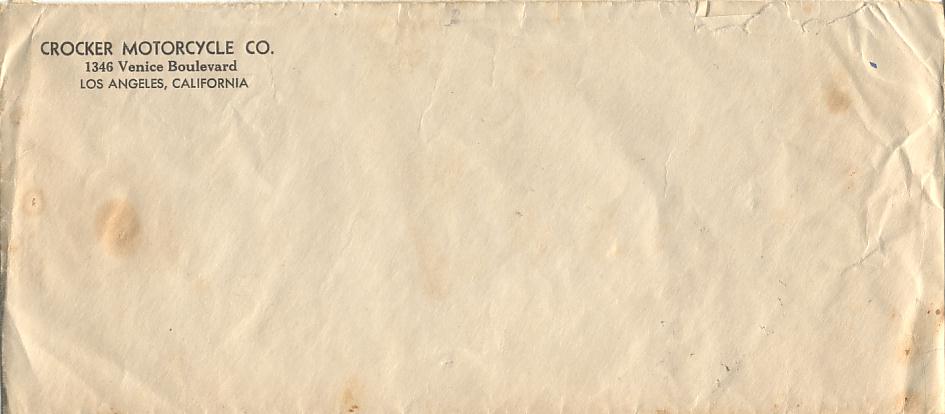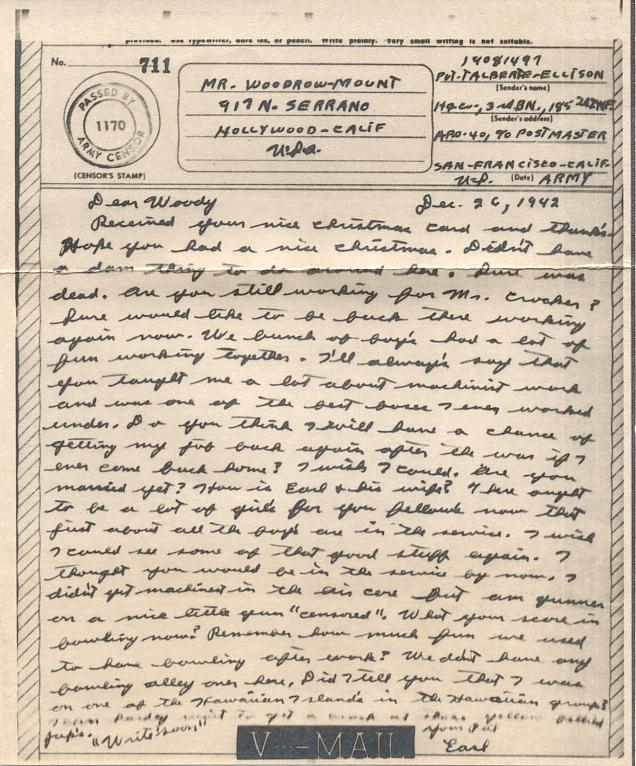 Before the end of 1942 Woody had some supervisory responsibilies in the company. He received this V-Mail letter dated Dec. 26, 1942, from Pvt. Talbert "Earl" Ellison, U. S. Army, who had been an employee of the Crocker Co. prior to joining the Army. I quote from his letter: "Sure would like to be back there working again now. We bunch of boys had a lot of fun working together. I'll always say that you taught me a lot about machinist work and was one of the best bosses I ever worked under." [click on the images for larger views of the letter].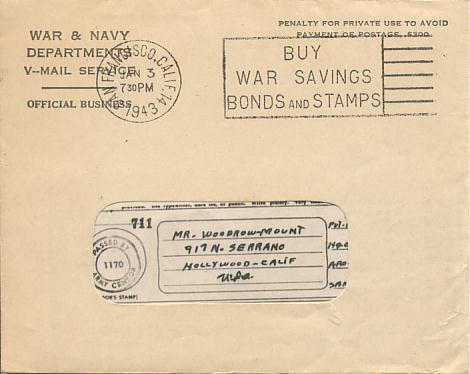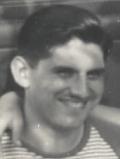 Woody in 1943

After Woody died, I found some documents in his files attesting to his service as an Auxiliary to the Military Police of the U. S. Army from 1942 to 1944 while employed at the Crocker Motorcycle Company. He never mentioned this to me and it has raised many questions that may well never be answered. From the little information I can find on the Auxiliary Military Police Progam during World War II it appears that they were civilian volunteers who served as security guards at industries/plants manufacturing equipment and parts vital to the war effort. What I find very interesting is that he served as an Auxiliary Military Policeman at the Industrial Production Company in Los Angeles. However, the discharge certificate and appreciation letter were mailed to Woody at the Crocker Company address. Did Al Crocker give him time off from his work duties or did he serve after work or on weekends? Here are scans of the documents [click on the images for a larger view of the documents]:

I was also surprised to find in Woody's papers some surviving payroll documents from the last several years of his employment at the Crocker Company. Are these wages typical of those earned by machinists at industrial shops of that era? Here are scans of some of the earnings and withholding statements [click on the images for a larger view of the documents]: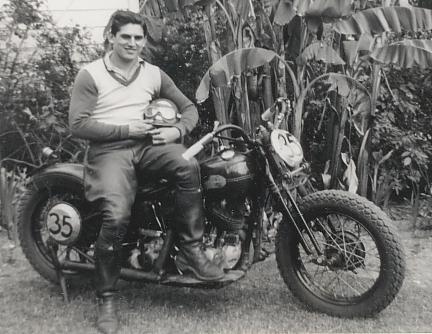 Woody and his 1938 Harley
Woody was an avid motorcycle rider starting about the late 1930s and continuing up to the end of the 1940s. No, he never owned a Crocker motorcycle! He once told me that he could not afford one and even if he did want one the waiting list was way too long. Besides, Woody was a Harley-Davidson enthusiast! During the late 1930s and early 1940s he competed with his Harley in the legendary Big Bear Run point-to-point motocycle race which ran from the Mojave Desert to the top of the San Bernardino Mountains in southern California. Woody was a member of the American Motorcycle Association and his AMA membership cards and lapel pins for some of the years (1941 and 1942) he worked at Crocker are shown below. Also displayed is his World War II Motorcycle Mileage Ration book issued to him in 1942 and identifying his motorcycle as a 1938 Harley-Davidson. Woody stopped riding by the end of the 1940s but continued his interest in motorcycles for the rest of his life.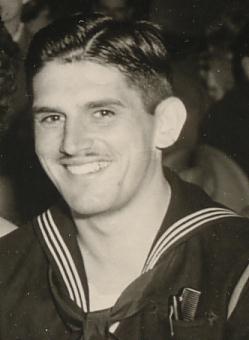 Woody in the U. S. Navy ca. 1945
As you will notice in the letter of recommendation for Woody, Al Crocker had requested and received a deferment from military duty for Woody. The deferment expired and in 1944 Woody resigned from the Crocker Company and entered in the U. S. Navy to fight for his country in World War II. Because of his vocational education and his experience at Crocker it is no surprise that the Navy assigned him to operate and maintain ships' diesel engines. After Basic Engineering School he received advanced training on Fairbanks, Morse & Co. diesel engines. His certificate of completion of this training is shown below. He was then assigned to the new Landing Ship Medium (LSM) 477 which was deployed throughout the Pacifc theater of operations during the war. He remained with USS LSM 477 until after the war ended and up to when the ship was decommissioned. Woody was honorably discharged from the U. S. Navy in 1946, and his separation paper is displayed below because it mentions his employment at the Crocker Motorcycle Co. He held the rate/rating of Motor Machinist's Mate (MoMM) Third Class -- and his uniform patch for that rate/rating is shown below. He then resumed employment at the Crocker Company. [click on the two left images for a larger view of the documents]: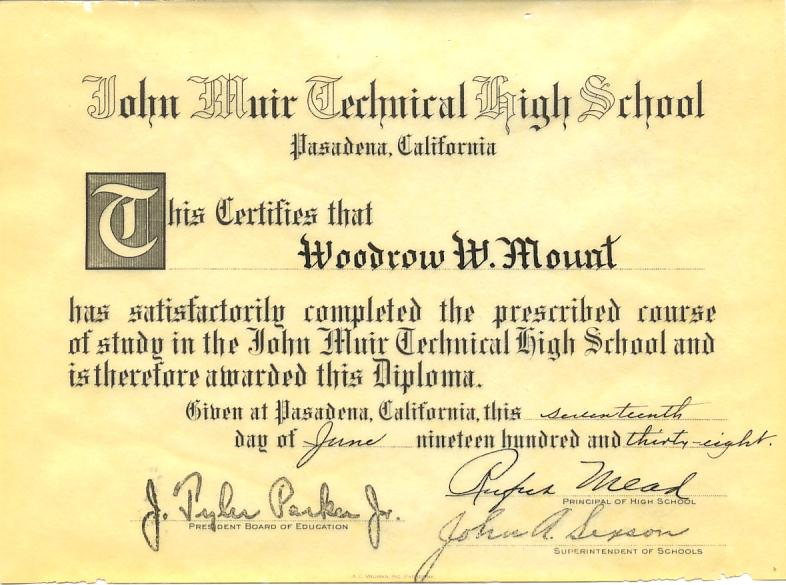 [click on the image for a larger view of the document]

Woody was born on December 19, 1918, in Trenton, New Jersey. In 1923, when he was five years old, his parents moved to Pasadena, California. He had fond memories of his childhood in Pasadena and often told me of his youthful adventures exploring the mountains above Pasadena. He received his education from Pasadena's public schools and graduated from John Muir Technical High School where he received excellent vocational training specializing, of course, in machine shop practice. A scan of his diploma is shown to the right. During the time he was employed at the Crocker Company he met and married my mother Helen June Popp in 1942 and I was born the following year. Woody's last employment was with the Los Angeles Department of Water and Power. He started with them in 1963 and retired in 1984. His work for them consisted of maintaining, repairing and rebuilding the turbines in the DWP power plants. He often reminisced with me about the work he did at the DWP hydroelectric plant in Boulder Dam, AZ/NV. After he retired, he moved with his second wife Emily (Tribe) Bray to her hometown of Albion, Illinois, where he passed away on March 30, 2008. Woody's descendants and ancestors may be seen on this direct line descendant chart. Shown below are two pictures of him working in DWP power plants in 1979.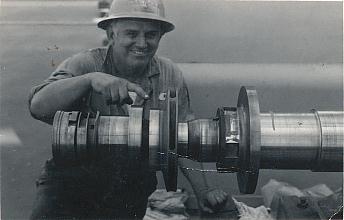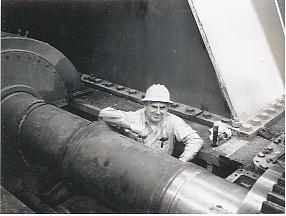 Several years before Woody's death I found in a stash of old photographs a set of early photos of him at his job with fellow employees. I asked him if he knew where the shots were taken and he said he was fairly certain that they were at the Crocker Co. Now, his health, mind and memory at that time were fairly poor due to his advanced age; so, I can not guarantee with certainty that the photos were taken at Crocker. Based on the vintage vehicle in some of the pictures and of Woody's apparent age, I would guess that they were most likely taken during the early or middle 1940s. If I am correct, then they most certainly are of Crocker Co. employees. If anyone can verify that they are or are not at the Crocker Co., please contact me. Here are the photos: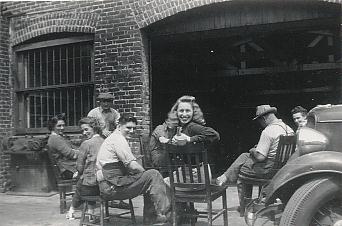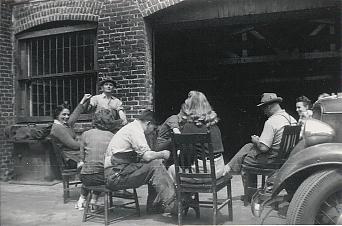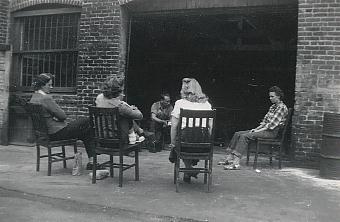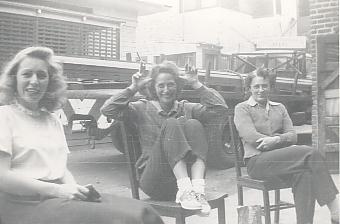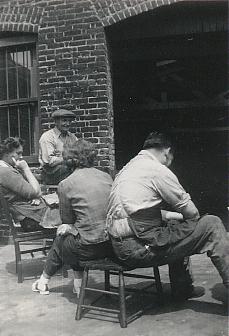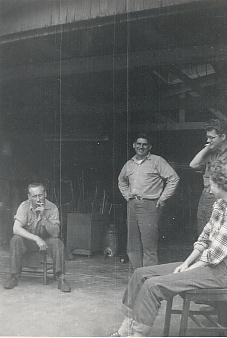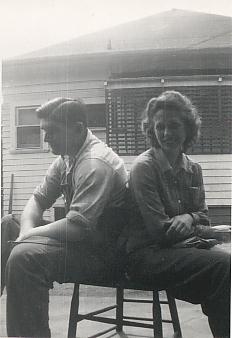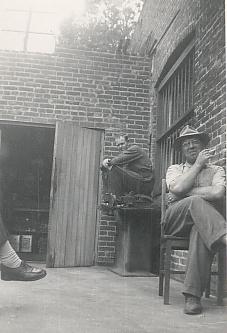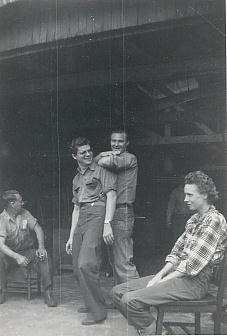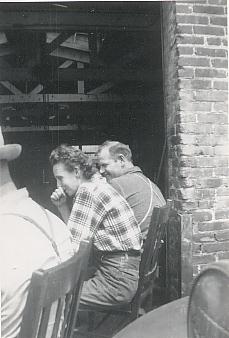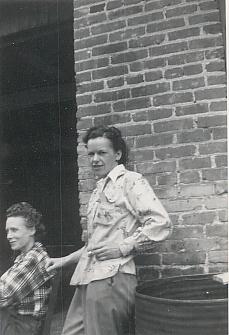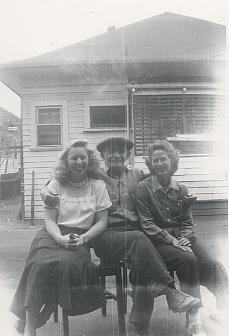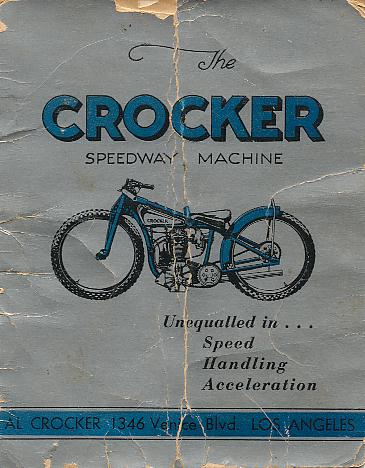 Woody highly prized this old Crocker advertising brochure which he saved from his days at the Crocker Co. It is a twelve page promotional booklet for the 1934 Crocker Speedway model motorcycle. Click on the small image of the booklet's front page to the left to go to a separate page with larger views of all the pages scanned two pages at a time: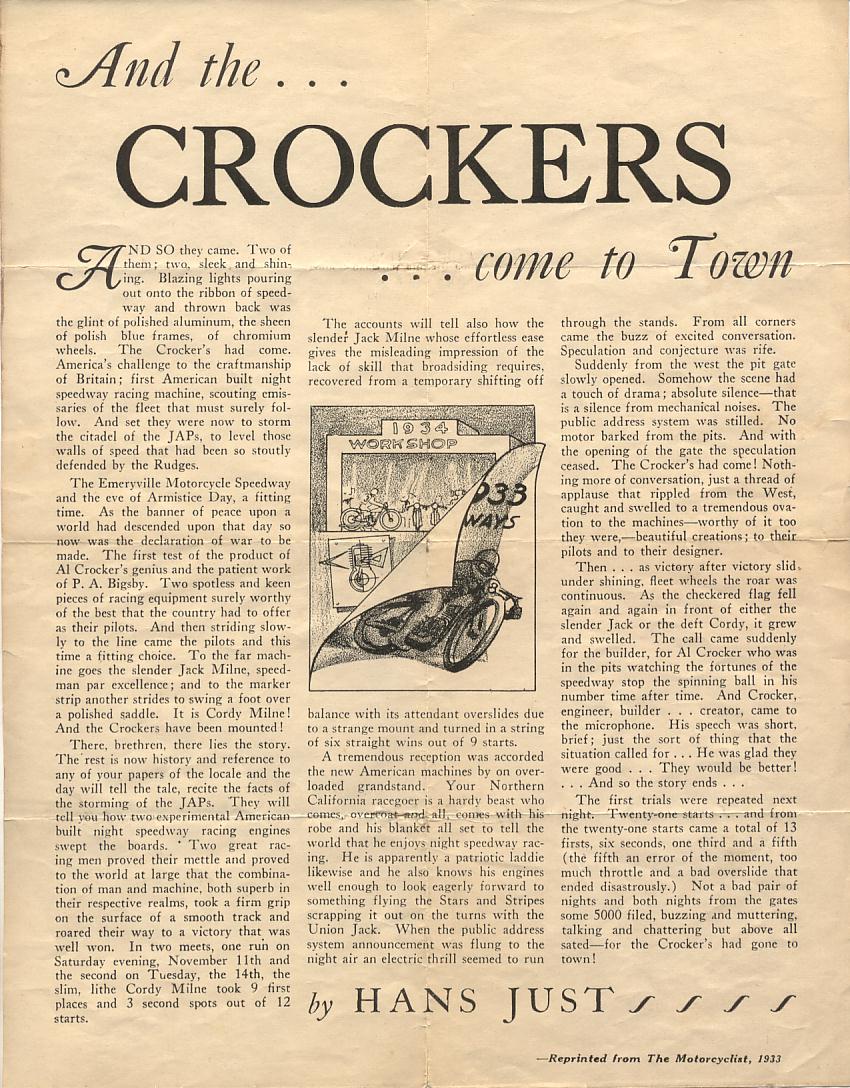 Woody also had in his files this old reprint of a magazine article about the Crocker Speedway racing motorcycles. It is titled "And the Crockers ... Come to Town" and appeared in a 1933 issue of The Motorcyclist. The article is an account of the introduction to and success of the new Crocker racing machine at the Emeryville Motorcycle Speedway written in a rather interesting literary style. Al Crocker probably had copies of this reprinted article available at his office to handout to prospective customers. Click on the image on the right to see a larger view of the article.
LINKS
Here are some links to websites about the Crocker Motorcycle Company and Crocker motorcycles: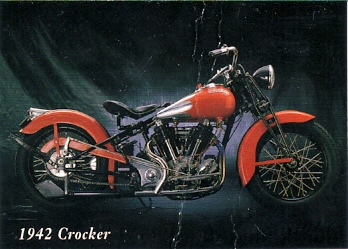 Photo of a 1942 Crocker 1000cc Vee-Twin Motorcycle, on a trading card published in 1993 by Chestnut Publications. Since it was made in 1942, Woody was most certainly involved in making parts for and/or the assembly of this motorcycle.
---
---
NEW BOOKS CURRENTLY AVAILABLE:
This page maintained by Jack D. Mount, jdmount@cox.net
Last updated: January 3, 2016
Copyright © 2011-2016

Return to top of page


Return to Genealogy Resources Page


Return to first page of Jack Mount's Home Place