| | |
| --- | --- |
| | NEZ PERCE NATIONAL HISTORIC TRAIL PASSPORT CANCELLATION STAMPS |
Here is a list with illustrations of the National Parks Passport Cancellation Stamps that I collected along the Nez Perce National Historic Trail, also known as the Nez Perce (Nee-Me-Poo) National Historic Trail. They are listed by the location of the passport stamping stations in travel order along the 1877 Nez Perce flight route from Oregon, through Idaho and Wyoming, to Montana.
In 1863 most of the Nez Perce Tribe were essentially forced by a revised treaty to leave their homelands in the Wallowa region of Oregon to a reservation at Lapwai, Idaho. Some of the non-treaty Nez Perce continued to reside in their ancestral homelands. In 1877 the U. S. Army oredered them to leave and move to the Lapawai reservation. They refused and began a flight of over 1,170 miles from the Wallowa region through Idaho, Wyoming, and Montana, pursued by the U. S. Army. Their trek ended when they were trapped by the U. S. Army near the Bear Paw Mountains of Montana and forced to surrender.
The national parks sites and other federal/national locations are shown in green.
---
OREGON
---
Wallowa-Whitman National Forest [USFS]
Wallowa Mountains Office, Joseph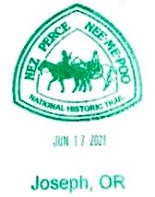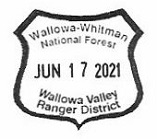 ---
IDAHO
---
Nez Perce National Historical Park
Visitor Center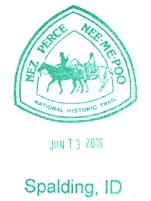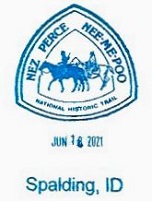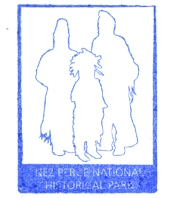 Clearwater National Forest [USFS]
North Fork Ranger Station, Orofino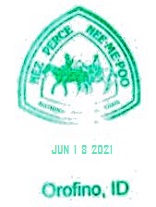 Clearwater National Forest [USFS]
Lolo Pass Visitor Center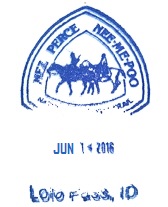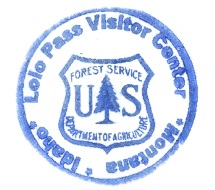 ---
MONTANA
---
Ravalli County Museum, Hamilton
Front Desk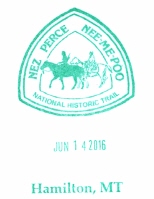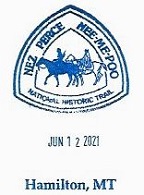 Big Hole National Battlefield
Visitor Center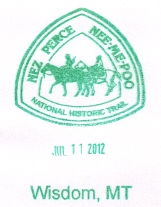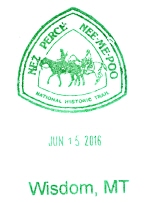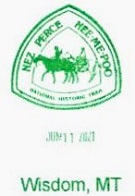 ---
IDAHO
---
Caribou-Targhee National Forest [USFS]
Mesa Falls Visitor Center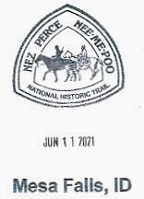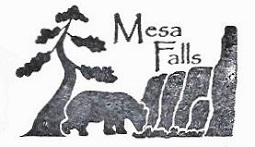 Caribou-Targhee National Forest [USFS]
Ranger Station, Island Park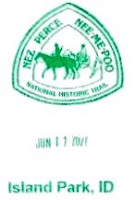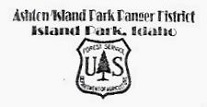 ---
MONTANA
---
West Yellowstone Visitor Information Center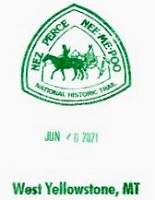 ---
WYOMING
---
Buffalo Bill Dam [USBR]
Visitor Center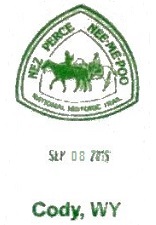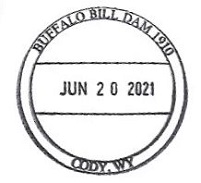 ---
MONTANA
---
Pompeys Pillar National Monument [BLM]
Interpretive Center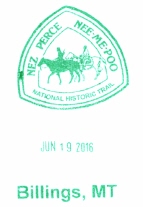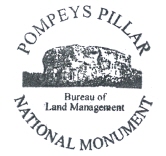 Upper Missouri River Breaks National Monument [BLM]
Interpretive Center, Fort Benton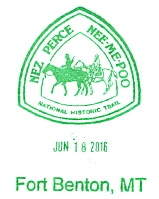 Nez Perce National Historical Park, Bear Paw Battlefield Unit
Blaine County Museum, Chinook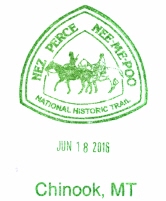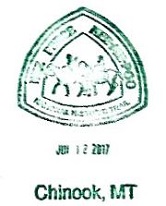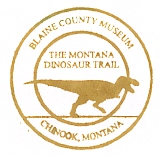 ---
This page maintained by Jack D. Mount
Last updated: July 13, 2021
---
NEW BOOKS CURRENTLY AVAILABLE:
---

Return to My National Parks Passport Cancellation Stamps page


Return to National Parks and Monuments page

Return to first page of Jack Mount's Home Place