| | |
| --- | --- |
| | Historic U. S. Highway 80 Through Arizona on Vintage Postcards |
---
This exhibit displays vintage postcards of views, scenes, and businesses along historic U. S. Highway 80 through Arizona. They are regular size (3 1/2 x 5 1/2 inches) postcards published from the late 1920s to the 1960s. They are displayed in travel order going west from the New Mexico border to the California border. The postcards show scenes that were seen by travelers from right along the highway unless otherwise noted. The age estimates for the unused postcards are based mainly on automobiles in the views and on postcard style. However, some estimates may be off by half a decade.
The actual text printed on the postcards is in quotation marks. My comments are in brackets.
---
CONTENTS
| Introduction | NM Border to East of Tombstone | Tombstone to East of Tucson | Tucson - East | Tucson - North | North of Tucson to East of Mesa | Mesa and Tempe | Phoenix-East | Phoenix-West | South of Phoenix to East of Yuma | Yuma | Matchbook Covers |
---
Click on the thumbnail image to see the full-size scan.
---
Introduction
U. S. Highway 80 was one of the original Federal Highways commissioned in 1926 along with some of its more famous newly numbered cousins such as U. S. 66 - "The Mother Road", U. S. 30 - "The Lincoln Highway", and U. S. 40 - "The National Highway". While Route 80 does not have as many devotees as these more revered "blue highways", never the less, it was probably more important because it was an all-weather, all-year route that was dependable to transcontinental travelers.
Originally, U. S. 80 was a true coast to coast highway. Its eastern end was and still is on Tybee Island east of Savannah, Georgia. Its western terminus was in San Diego, California. The construction of the modern Interstate Highways starting in 1956 initiated the demise of much of old Highway 80. By 1991, it was completely decommissioned in Arizona. Today, its western end is in Dallas, Texas.
U. S. 80 does not have a nickname used along its entire route. Over the years and in various sections, it has been called "The Broadway of America", "Ocean-to-Ocean Highway", "All-Year Southern Route", or "Scenic Sunshine Route".
Here is a modern postcard published by Bob Waldmire in 2001 describing and mapping historic U. S. Highway 80: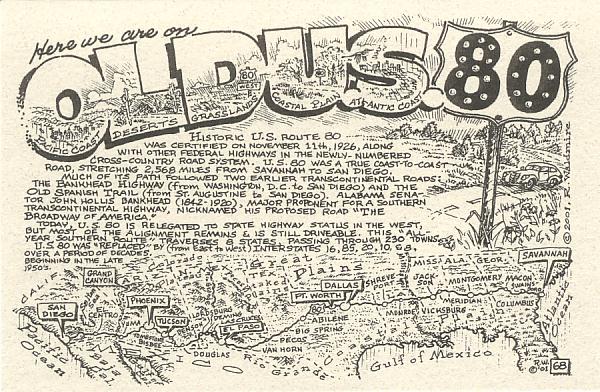 The alignment of U. S. Highway 80 across America was generally mostly a straight east-west. However, in Arizona it had a most curious route. After entering Arizona just west of Rodeo, New Mexico, Route 80 dipped south to Douglas on the Mexican border. It then started north through Bisbee, Tombstone, and Benson to Tucson. From Tucson, it ran almost directly north to Phoenix in central Arizona passing through the towns of Apache Junction, Mesa, and Tempe. The highway then dipped back south through Buckeye to Gila Bend in southern Arizona. From Gila Bend, it ran almost directly west to Yuma and the California border. Today, probably over 80% of the original two-land Highway 80 is still driveable, the rest of it having been covered by modern Interstates 8 & 10.
Here is a scan of the southern portion of the Arizona map in the 1949 edition of the Rand McNally Road Atlas... showing U. S. Highway 80.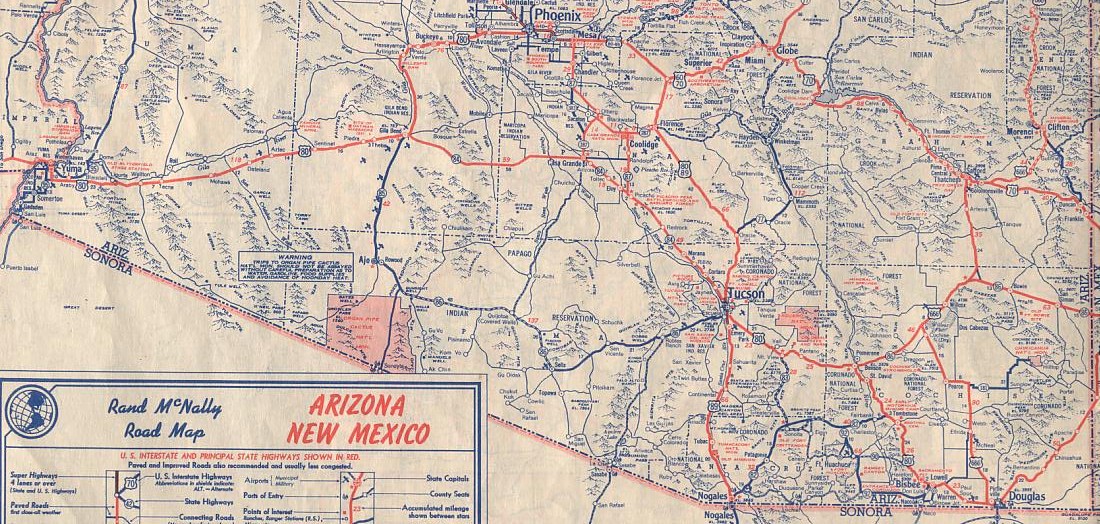 ---
ARIZONA
| | |
| --- | --- |
| | "Greetings from Arizona". Color linen-texture printed postcard. Published by E. C. Kropp Co., Milwaukee , Wis. Number 31579N. Unused. Circa 1940s. [The view in "A" is on U. S. 80]. |
| | |
| --- | --- |
| | "Greetings from Arizona". Color linen-texture printed postcard. Published by Tucson News Co., Tucson. Number 49392. Number M126:-. Unused. Circa 1940s. [The view in "A" is on U. S. 80]. |
| | |
| --- | --- |
| | "Greetings from Arizona". Color chrome-style printed postcard. Published by Colourpicture, Boston, Mass. Number P13879. Unused. Circa 1960s. [Map shows U. S. 80]. |
| | |
| --- | --- |
| | "Here I am in Arizona". Color chrome-style printed postcard. Published by H. S. Crocker Co., San Francisco, Calif. Number HSC-219. Unused. Circa 1950s. [Here is another map showing U. S. 80]. |
---
---
---
NEW BOOKS CURRENTLY AVAILABLE:
---
Exhibit created by Jack Mount
These pages were last updated on: January 12, 2012
© 2007-2013

Return to List of My Postcard Exhibits


Return to Postcard Resources Page


Return to first page of Jack Mount's Home Place
Postcard Collecting NetRing
Arizona NetRing
Powered By Ringsurf
You are visitor number
since December 7, 2012