| | |
| --- | --- |
| | ARIZONA NATIONAL SCENIC TRAIL PASSPORT CANCELLATION STAMPS |



Here is a list with illustrations of the National Parks Passport Cancellation Stamps that I collected along the Arizona National Scenic Trail. The Arizona National Scenic Trail is a hiking path that basically traverses through the middle of Arizona stretching from Arizona's southern border to its northern border. The stamps are listed by the location of the passport stamping station roughly in travel order from the southern border to the northern border with Utah.
The national parks sites and other federal/national locations are shown in green.
---
ARIZONA
---
Coronado National Memorial
Visitor Center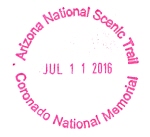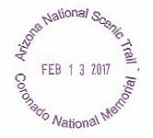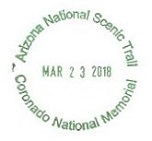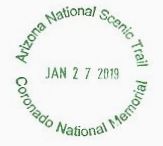 ---
Saguaro National Park
Manning Camp Register Box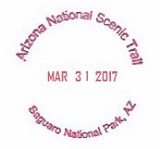 ---
Grand Canyon National Park
Phantom Ranch Ranger Station

---
Grand Canyon National Park
North Rim Visitor Center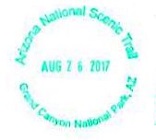 ---
Grand Canyon National Park
North Rim Backcountry Information Center


---
This page maintained by Jack D. Mount
Last updated: April 20, 2021
---
NEW BOOKS CURRENTLY AVAILABLE:
---

Return to My National Parks Passport Cancellation Stamps page


Return to National Parks and Monuments page

Return to first page of Jack Mount's Home Place