Passport Cancellation Stamps Collected During a Trip in Late January, 2022
During late January, 2022, we made a road trip through the southern portions of New Mexico, Texas, and Arizona. Along the way we visited some national parks sites, some BLM and USFWS sites, and a few state and municipal sites. I have prepared this webpage illustrating the passport cancellation stamps and bonus stamps I collected. The stamps are listed by stamping station in the order I collected them. The national parks sites and other federal/national locations are shown in green.
NOTE: due to the COVID-19 pandemic some park sites and visitor centers were closed or only partially open and not all of the passport stampers were out for use. At some sites only the staff were allowed to stamp the books.
Abbreviations
BLM - U. S. Bureau of Land Management
USFWS - U. S. Fish and Wildlife Service
---
NEW MEXICO
---
Organ Mountains-Desert Peaks National Monument [BLM]
Dripping Springs Visitor Center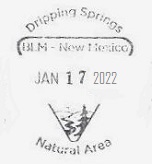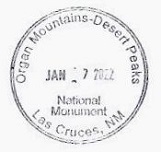 Prehistoric Trackways National Monument [BLM]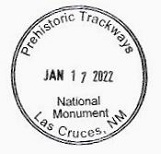 ---
New Mexico Farm & Ranch Heritage Museum, Las Cruces
Visitor Center - Admission Desk
El Camino Real de Tierra Adentro National Historic Trail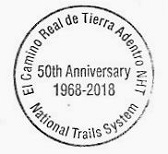 ---
Mesilla Town Hall - Taylor Visitor Center
Information Desk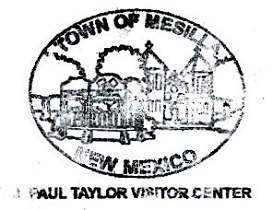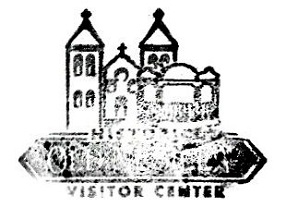 El Camino Real de Tierra Adentro National Historic Trail

---
TEXAS
---
Fort Davis National Historic Site
Visitor Center


---
Big Bend National Park
Panther Junction Visitor Center


Rio Grande Wild and Scenic River


Chisos Basin Visitor Center

Rio Grande Wild and Scenic River

Castolon Visitor Center

Rio Grande Wild and Scenic River

---
Big Bend Ranch State Park
Barton Warnok Visitor Center

Sauceda Ranger Station

---
Big Bend National Park
Rio Grande Village Visitor Center

Rio Grande Wild and Scenic River

Persimmon Gap Visitor Center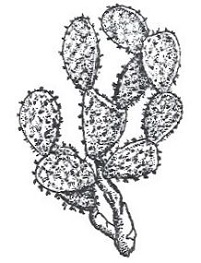 Rio Grande Wild and Scenic River

---
Amistad National Recreation Area
Visitor Center


---
Padre Island National Seashore
Visitor Center - Bookstore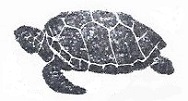 ---
Laguna Atascosa National Wildlife Refuge [USFWS]
Visitor Center

---
Palo Alto Battlefield National Historical Park
Visitor Center




---
Santa Ana National Wildlife Refuge [USFWS]
Visitor Center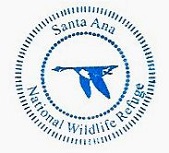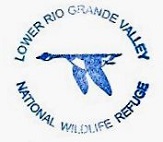 ---
San Antonio Missions National Historical Park
Mission San Jose Visitor Center






El Camino Real de los Tejas National Historic Trail

---
Guadalupe Mountains National Park
Visitor Center


---
NEW MEXICO
---
Carlsbad Caverns National Park
Visitor Center - Bookstore

Visitor Center - Information Desk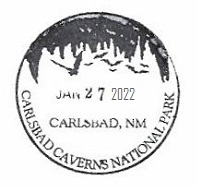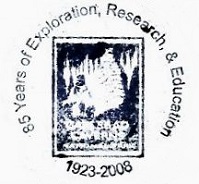 ---
White Sands National Park
Visitor Center



---
ARIZONA
---
Coronado National Memorial
Visitor Center


Arizona National Scenic Trail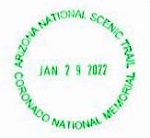 ---
This page maintained by Jack D. Mount
Last updated: January 31, 2022
---
NEW BOOKS CURRENTLY AVAILABLE:
---

Return to My National Parks Passport Cancellation Stamps page


Return to National Parks and Monuments page

Return to first page of Jack Mount's Home Place