Passport Cancellation Stamps Collected During a Trip In Early April 2021
During early April, 2021, we made a very quick trip through portions of southern Arizona. Along the way we visited two national parks sites and a national wildlife refuge. I have prepared this website illustrating the passport cancellation stamps and bonus stamps I collected. The stamps are listed by stamping station in the order I collected them. The national parks sites and other federal/national locations are shown in green.
NOTE: due to the COVID-19 pandemic the park sites and visitor centers were only partially open and not all of the passport stampers were out for use. At some sites only the rangers were allowed to stamp the books. One visitor center was completely closed! The passport stamp from that site was obtained by mail.
---
ARIZONA
---
Saguaro National Park
Red Hills Visitor Center

Juan Bautista de Anza National Historic Trail

---
Organ Pipe Cactus National Monument
Visitor Center


---
Cabeza Prieta National Wildlife Refuge [USFWS]
Visitor Center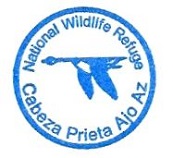 ---
This page maintained by Jack D. Mount
Last updated: April 7, 2021
---
NEW BOOKS CURRENTLY AVAILABLE:
---

Return to My National Parks Passport Cancellation Stamps page


Return to National Parks and Monuments page

Return to first page of Jack Mount's Home Place