Passport Cancellation Stamps Collected During A Trip from March to April, 2015
From early March to the early part of April, 2015, we made a long road trip through Arizona, California, and Nevada. I have prepared this webpage illustrating the passport cancellation stamps and bonus stamps we collected from the national parks sites, other federal/national sites, and a few other interesting state and municipal sites. The stamps are listed in the order I collected them. The national parks sites and other federal/national locations are shown in green.
One of the highlights of the trip was following the Juan Bautista de Anza National Historic Trail from the Arizona-Mexico border to its terminus in the San Francisco Bay region.
---
Contents
| Arizona | California to Nevada to California | California |
---
ARIZONA
---
Presidio San Agustin del Tucson Museum Gift Shop, Tucson
Juan Bautista de Anza National Historic Trail

---
Historic Hacienda de la Canoa, Raul M. Grijalva Canoa Ranch Conservation Park, Green Valley
Juan Bautista de Anza National Historic Trail

---
Las Lagunas de Anza, Nogales
Juan Bautista de Anza National Historic Trail

---
Tumacacori National Historical Park
Visitor Center

Juan Bautista de Anza National Historic Trail

---
Tubac Presidio State Historic Park
Visitor Center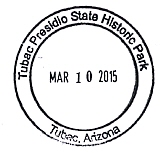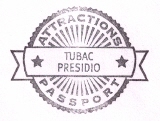 Juan Bautista de Anza National Historic Trail

---
Saguaro National Park
Red Hills Visitor Center


Juan Bautista de Anza National Historic Trail

---
Picacho Peak State Park
Visitor Center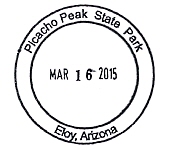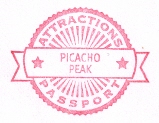 Juan Bautista de Anza National Historic Trail

---
Casa Grande Ruins National Monument
Visitor Center



Juan Bautista de Anza National Historic Trail


---
Gila Bend Visitor Center and Museum
Juan Bautista de Anza National Historic Trail


---
Yuma Quartermaster Depot State Historic Park
Visitor Center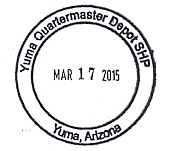 Juan Bautista de Anza National Historic Trail

Yuma Crossing National Heritage Area

---
---
This page maintained by Jack D. Mount
Last updated: April 21, 2015
---
NEW BOOKS CURRENTLY AVAILABLE:
---

Return to My National Parks Passport Cancellation Stamps page


Return to National Parks and Monuments page

Return to first page of Jack Mount's Home Place