| | |
| --- | --- |
| | Conoco Touraide Vintage Postcards |
---
This exhibit displays vintage postcards published by the Conoco Touraide travel service. Conoco is one of the lesser known publishers of postcards and its postcards are not often seen by collectors. The views on these postcards provide a nice glimpse of what travelers saw along America's highways during the late 1940s. Some of the views appear to be rather unique; I have not seen them on other postcards
The actual text printed on the postcards is in quotation marks. My comments are in brackets. The postcards are unused unless otherwise noted.
---
CONTENTS
| Introduction | Postcards: Alabama to Nebraska | Postcards: Nevada to Mexico | Checklist | Trading |
---
Click on the thumbnail image to see a larger scan.
---
Introduction
In about 1930, the Continental Oil Company -- Conoco -- Travel Bureau started their Touraide trip planning service. The customer would provide the bureau with their travel plans and the bureau would then give them a customized assortment of maps and lodging, camping and attractions guides for the suggested best route. Starting in about 1936, this information was spiral bound together into a book or atlas tailor-made for the planned trip. This format continued until 1958 when it was replaced with a standard complete road atlas. The Touraide service appears to have been complimentary; however, the customer needed to ask their local Conoco station for the travel service application form.
Here is the front of the Touraide service application form which was on a postcard: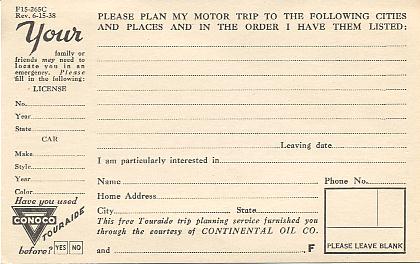 Here is the front cover of a 1946 Conoco Touraide book: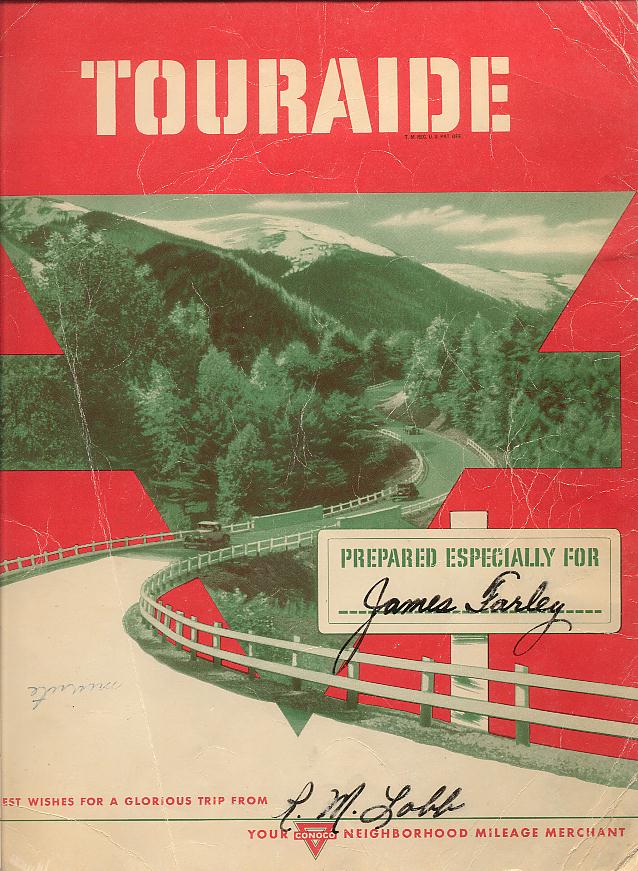 The maps were made for the Touraide by the H. M. Gousha Company. The Touraide staff marked the traveler's route on the map with a highlighter. Here is one of the maps from a 1946 Touraide book: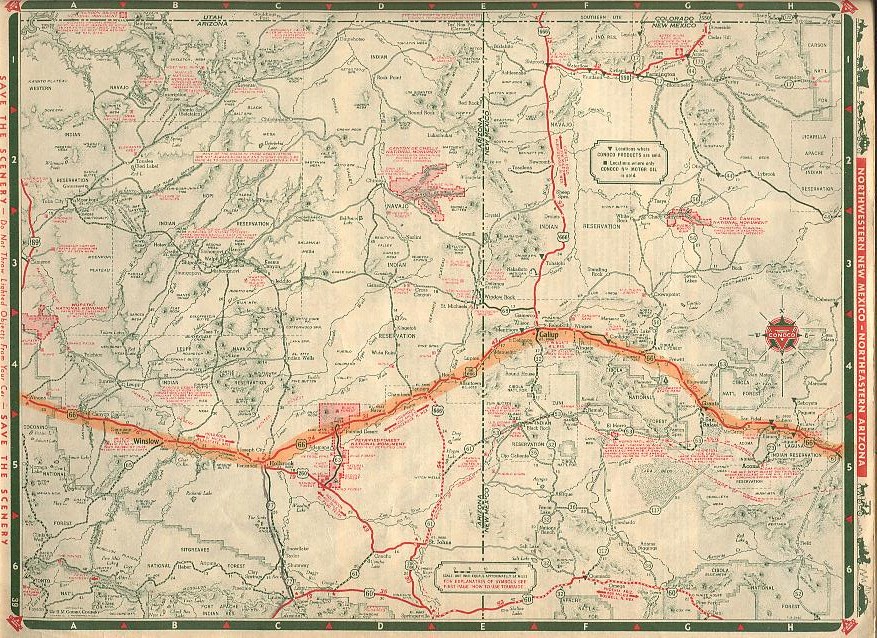 The Touraide books prepared during the late 1940s had a pocket attached to the inside of the back cover which contained postcards, an envelope for stamps, and a satisfaction questionnaire card.
Here is the inside of the back cover of a 1946 Conoco Touraide book -- note the text which explained what was in the pocket: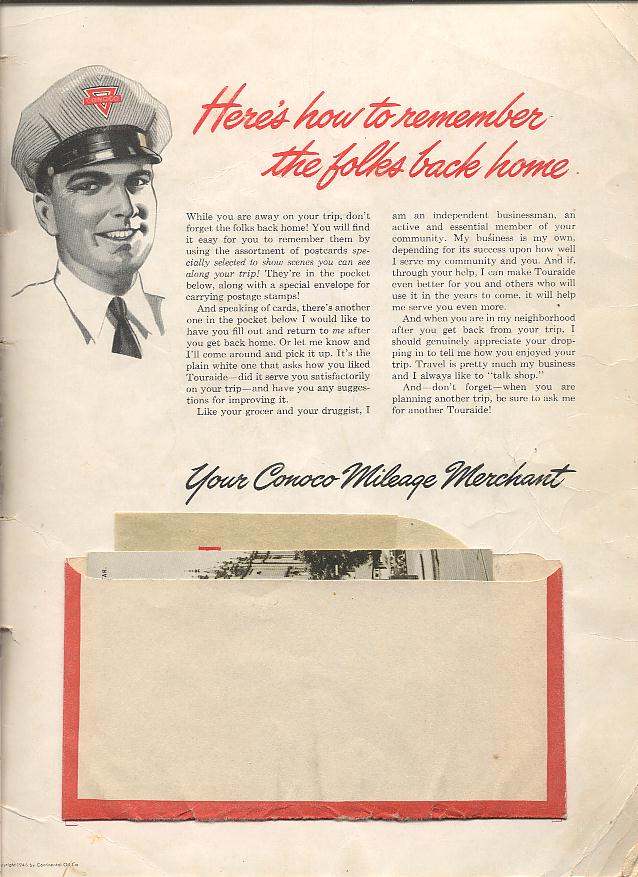 A glassine paper envelope for storing postage stamps was included in the pocket on the inside of the back cover: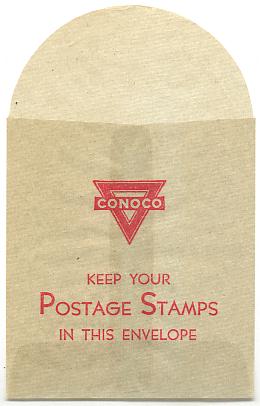 Here is the satisfaction questionnaire card that was to be returned to the local station manager. It is the size of a postcard; however, the back is blank: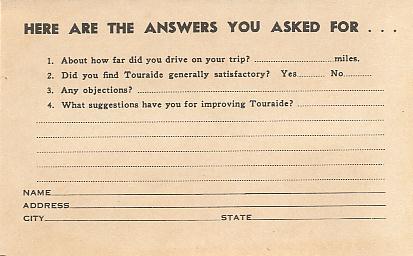 Now, I will describe the subject of this exhibit -- postcards! From 1946 until 1950 Conoco Touraide published its own postcards. The travel service would place an assortment of these postcards in the Touraide book pocket especially selected to show scenes along the planned trip. The postcards were printed in multi-shades of one color. The colors I have intentified are black, blue, maroon, olive green, and sepia. These postcards have no number on them making it difficult to determine the total number of different views published. It appears that these postcards were only available from the Touraide travel service and not distributed by the local Conoco stations.
All Conoco Touraide postcards have identical backs. They look like this: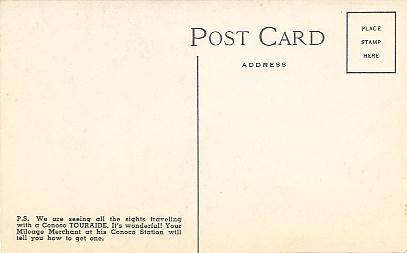 The text says: "P.S. We are seeing all the sights travelling with a Conoco TOURAIDE. It's wonderful! Your Mileage Merchant at his Conoco Station will tell you how to get one."
I have created a checklist of all the Conoco Touraide postcards that I have identified.
---
---
NEW BOOKS CURRENTLY AVAILABLE:
---
Exhibit created by Jack Mount
These pages were last updated on: August 31, 2022
Copyright © 2007-2022

Return to List of My Postcard Exhibits


Return to Postcard Resources Page


Return to first page of Jack Mount's Home Place
Postcard Collecting NetRing
Your are visitor number
since December 13, 2012